16

min
The idea here is to summarize my understanding of the book. However, before anything, an important note to be aware of throughout this summary is that the authors are extremely focused on customer service centers, that is, they are always associating the term "Customer Service" (Customer Service) to what here in our region we know as SAC, after sales, customer support, mainly those via phone or chat through an attendant.
Therefore, their study and defense do not cover the complete customer journey with the brands, but this specific point of the journey. This is very clear in the title of the last chapter "Effort Beyond the Contact Center" (Effort beyond the Call Center), Where, only, demonstrate that the philosophy and methodology advocated in the book can make sense at other touch points in the customer journey.
And that's why the CES (Customer Effort Score), indicator created by the authors, it is very appropriate for this moment of the customer journey and less for other points of contact or for a more comprehensive view of customer loyalty / brand loyalty.
This point, you will have a read on the rest of this content with an unbiased view, avoiding thinking that this material (indicator) would have great application in all areas of your business.
A surprising experience favors the customer?
The authors believe (through numbers and graphs that show) that customer loyalty is much more associated with a low or no stress experience, than an experience that positively surprises the customer in the service channels.
Important questions used by the authors for this awareness were:
Which companies are you a customer due to their exceptional customer service? (Remembering that customer service is after-sales service. A good example is the assistance we receive to solve a problem with our telephone and internet operator.)

Which companies have you stopped being a customer and refuse to do business again due to the bad experience they offered you? (The authors argue here that you will have an easier time remembering companies that fit the question 2, than in the question 1.)
Differentiate yourself with kindness
With the advance of technology, the product life cycle is increasingly accelerated, that is, "shortened". Thus, many companies that innovate in their products soon realize that they were quickly copied and, therefore, one of its great differentials should be the customer service. Because this is what the market has been preaching constantly.
Only 20% of big brand customers perceive differentials between them:
Important questions
How important customer service is to promote customer loyalty?
Everyone seems to believe that customer service is everything, but how?

What actions can customer service take to increase loyalty?
Many companies seek to delight their customers to build customer loyalty, but fail to show their results consistently.

How customer service can improve loyalty, and at the same time reduce operating costs?
Doing more with less is what is expected of any major business plan today. Thus, how to delight customers with few resources?
The methodology of the CEB study
Using the database composed of 400 companies from one of the largest customer service networks in the world (The Customer Contact Leadership Council), the team CEB (Corporate Executive Board) interviewed more than 97.000 people who had recently received customer service to understand what most impacted their customer service loyalty.
This study started with questions about:
Experience they had with the attendants;

How exhausting it was for them, including number of steps needed to solve your problems;

The company's ability to deliver an incredible experience to its customers.
In this study, all of these items could be segregated considering demography and ethnography.
The popular wisdom
Before entering the study results, the authors emphasized what popular wisdom preaches. They confirmed this through research.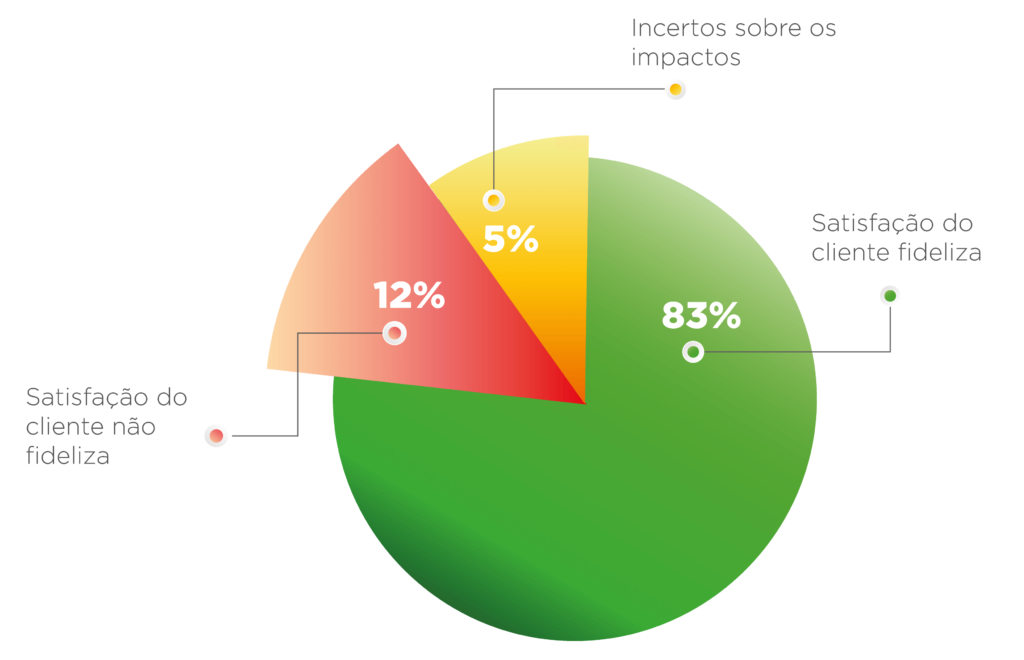 Graphically demonstrating, according to the expectation of these 83%, what would be the impact of customer satisfaction and customer service on customer loyalty:
summing up, customer service below expectations generates low loyalty, while exceeding customer expectations generates high loyalty rates.
However, we have:
Discovery Nº1
A strategy of exceeding expectations in customer service / support is not paid.
Different from what popular wisdom preaches, when analyzing data from 97.000 surveys, it was found that there is practically no difference between simply meeting customer expectations and exceeding them.
According to the data and verbatins collected, customers would not be looking for anything special, don't want to be surprised, but, only, have their problems quickly resolved.
Thus, any investment that is made to exceed expectations would be a waste.
The author challenges managers who work for companies that claim to exceed customer expectations to answer the following questions with a "YES":
Your company's customer service leaders reach out to the CEO or CFO to request additional resources and support their ability to delight the customer through their service channels?

Your company empowers attendants to do their best to exceed customer expectations, regardless of cost?

If your product or service does not meet customer expectations, you would allow him to choose any replacement or alternative outside the warranty period and, perhaps, even beyond the value of the original product?

Have you removed all productivity measures (as call duration, also known as FCR – First Call Resolution) of the service team indicators, so they can focus all their energy on pleasing customers and exceeding their expectations?
Discovery Nº2
Satisfaction in customer service is not about loyalty.
Research with 97.000 revealed a relationship between customer satisfaction with the service and the loyalty of only 0,13 on a scale of 0 to 1 100.
Although it seems strange, 20% of customers who declared satisfaction with the support offered also reported that they intended to leave the brand and buy from their competitors. They said they were satisfied, but who would not be loyal to the brand just because of that satisfaction. On the other hand, 28% of customers reported being dissatisfied, but being loyal to brands.
The authors want to prove that the CSAT, an indicator of customer service satisfaction, has no relation to customer loyalty. This seems obvious, and it really should not be expected that only satisfaction with the service would generate loyalty, after all, when applied the CSAT, the person is evaluating only the attendant and not the satisfaction with his whole journey.
People, when they evaluate the attendant, often manage to separate the company's high stressful processes, of the good professional who attended them. Perhaps the authors lacked the sensitivity to consider that loyalty involves the whole journey and not just a point of contact.
Discovery Nº3
Customer service tends to "de-loyalty" rather than loyalty.
According to the survey results, customer service has four (4) times more likely to "de-loyalty" than to retain customers.
Remember that the customer only seeks customer service when something has gone wrong. Thus, the responsibility of the customer service is to solve the his problem and put him back to normal again.
The problem is that, mostly, companies have great difficulties in meeting customer expectations in this service channel, so they end up driving customers to fury and, consequently, non-loyalty.
The dissatisfied, as defended in all literatures of the segment, run to speak ill of companies after these bad experiences.
They also collected very interesting data on the impact on customer loyalty. satisfied customers with experience.
Product:
71% of customers who like a product talk about it with people close to them;

32% of customers who don't like a product talk to people close to them.
Customer attendance service:
25% of customers who have had a good experience with customer service talk about it with people close to them;
65% of customers who have not had a good experience with customer service talk about it with people close to them.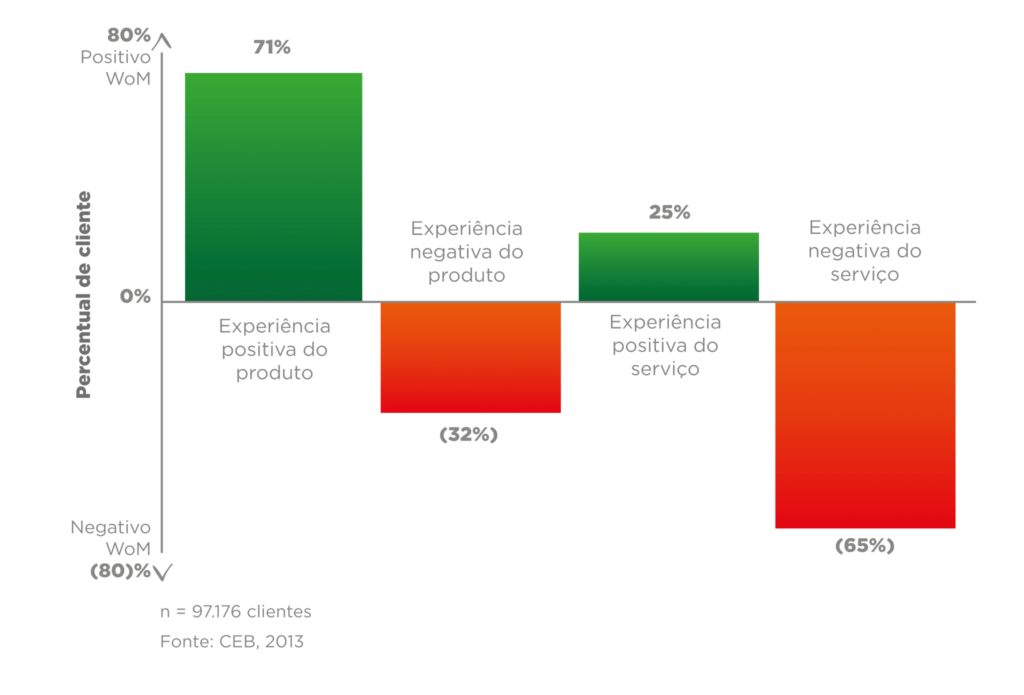 Through some examples, the book reminds us that a service experience involves people and, when we consider a negative experience, this is because we understand that we are being disrespected.
When it happens, one of the person's first instincts is to seek empathy from his friends and relatives, so he tells the story where he is the victim and was disrespected, that is, he is smart, but the service treated him like an idiot and so on..
The research showed:
A good experience with the customer service generates 45% of customers talking about it to a (1) to three (3) people;

A bad experience with the customer service generates 48% of customers talking about it for more than ten (10) people.
With the creation of social networks, here in Brazil we even have a specific channel for complaints (Complain here), it is evident that these 48% can gain a totally disproportionate scale between positive and negative cases.
What makes you stop doing business with a company?
Almost all of us have a company that we avoid doing business as much as possible, this condition usually came after some bad experience that the brand offered us while trying to solve a problem with the customer service representative.
In short, we choose companies because of their products and prices, but we generally leave them for their customer service failures.
Discovery Nº4
The key to mitigating "de-loyalty" is reducing customer efforts.
Analyzing the data to understand what drives customers to be more or less loyal, the authors arrived at the chart below: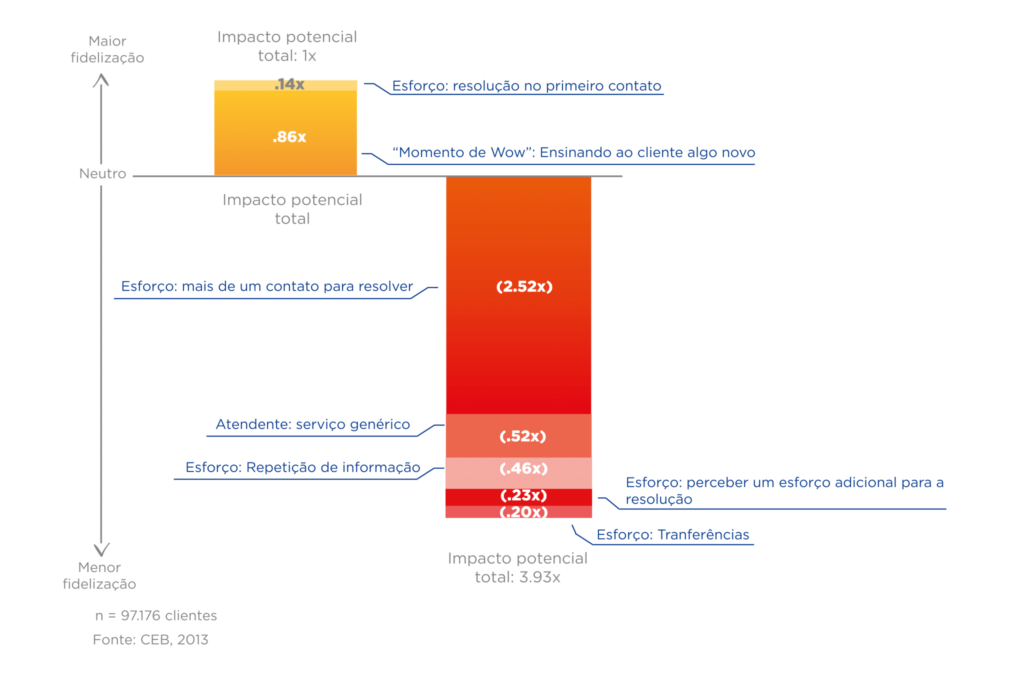 Four (4) out of (5) reasons that make the customer less loyal are related to the customer's effort.
First Call Resolution vs. Next Issue Avoidance
From that point the authors began their criticism of the FCR indicator (Firs Call Resolution) or resolution rate on first contact. They claim that, due to FCR, the service ends up being limited to solving what the customer asked for and does not anticipate future problems associated with that request and, like this, the customer often needs to return his call when he realizes that solving a problem has caused another.
Based on this, start to suggest a new indicator called Next Issue Avoidance, what would be an elimination rate for next problems.
Generic service
The next big bad guy for not loyalty through customer service is generic service.
Generic service occurs when the customer feels he is treated as a number, without any customization to your service, when you hear the attendant simply reciting coldly that condition is stated in the contract, or even when the attendant utters phrases of thanks to his loyalty without any emotion involved.
Repetition of information
Having to repeat registration information and telling your problem to countless attendants is another item that generates additional effort and customer dissatisfaction.
Perception of additional effort to solve the problem
The attendants' communication can generate a perception of effort to solve the problem and, for this reason, companies should focus on improving the way their agents communicate with their customers.
In other words, there are many ways to say the same thing. Some tend to improve customers' perception of effort, while others tend to worsen this perception.
Exemplifying:
You arrive at the airport and find that your 7:30 am flight has been canceled. When talking to the attendant, he tells you:
Option 1:
"I'm sorry for the inconvenience with your flight. We can reschedule for 9pm today."
Option 2:
"I'm sorry for the inconvenience with your flight. I know we managed to fit you on a flight tomorrow at 9 am, However, let me see if I can help you with any snapshots today."
A short pause and then:
"I have good news, I managed to fit you on a flight for 9pm. I understand that you will have to waste a few hours, but at least you will be able to reach your destination today."
Transfers
Transfers between attendants and also the need to change the service channel (enter the site and discover that you need to call the exchange, for example) generate frustration.
Despite this being the least weighted element among the five (5) reasons, in the view of the authors, this is the one who has the greatest potential to change the customer service as it is today through the web site with a good self-service (self service).
Res
umindo tudo
What the book argues, simplifying as much as possible, is that the customer service should mitigate the customer's "defidelity" by reducing the customer's efforts.
Changing the loyalty curve
As illustrated below, the authors argue that it is incorrect to try to increase the total loyalty of their customers through an experience above expectations in their customer service.
On the other hand, it is totally feasible to reduce "de-loyalty" through a customer service that requires less effort from customers.
It still summarizes in three (3) points the reasons for the enchantment of customers do not work in customer service:
Exceeding customer expectations in the SAC is rare, and when that happens it doesn't make customers even more loyal by simply meeting their expectations;

It does not work because SAC interactions have 4 times more likely to "de-loyalty" than to loyalty;

It doesn't work because optimizing to exceed expectations doesn't focus resources, investments, metrics and incentives to reduce customer efforts, what is, actually, the main reason for "de-loyalty".
Thus, do what you have to do to get your customers back to their lives as quickly as possible, efficiently and the confidence that your problems have actually been fixed. Reduce your customer's efforts!
The four principles of low effort service
In addition to the described above, the CEB team analyzed on studies on the efforts of customers from several years and various sources. They generated several additional studies and quantitative analysis fully immersing in the nature of customers' efforts.
They also spoke with hundreds of leaders to identify innovative practices to reduce customers' efforts.
Companies that offer low effort to customers minimize the need to change channels through a good experience in their digital self-service channels;

When the customer is forced to call the company for not having found a solution in self-service, these companies prepare their attendants to go beyond basic service and anticipate possible future problems, preventing the customer from having to call back;

Companies prepare their attendants to change the perception of their customers through communication. Design service tactics and give attendants permission to manage customer interaction;

Empower your attendants to deliver a low effort experience with incentive plans that you value through indicators that go beyond speed and efficiency. Remove the culture from the stopwatches and checklists and "focus" on giving greater autonomy and opportunity for their attendants to exercise a greater degree of judgment on their attendance. They understand that, to have greater quality in the experience delivered, need to give greater control to those responsible for these deliveries.
Following these four steps of innovative practices to reduce customers' efforts, certainly the company will get good results.